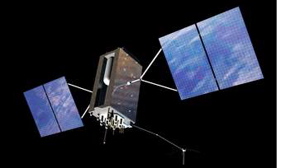 I swear I'm not affiliated with Ford, nor do I even own a Ford, but some research that they have invested $4 million dollars in may produce some technology and safety breakthroughs.  The investment is for Auburn University research and 16 safety programs. 
"The satellites track the speed and direction of a car, the road ahead and current conditions to calculate whether an accident is probable. If so, the satellites can communicate with the car's stability-control system to help avoid it."
It is a little scary that something in the sky could apply my brakes and steer my car to avoid a wreck.  Sounds like a Knight Rider episode!
(Photo courtesy of Lockheed Martin)